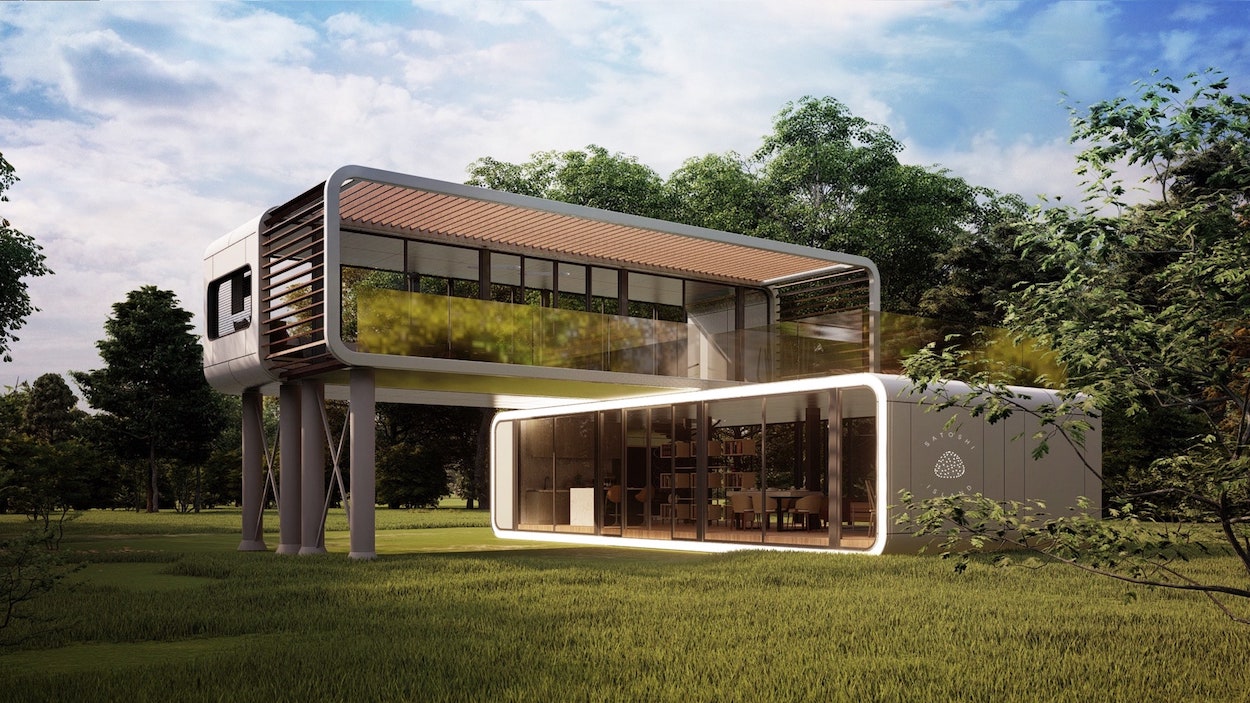 Crypto Kids may soon have an idyllic tropical island on which to congregate and call their own. A company called Satoshi Island Holdings Limited recently received the green light to develop Satoshi Island, a secluded 800-acre patch of land in the South Pacific named after the pseudonymous Bitcoin founder. Seven specific "NFT zones," or neighborhoods, will be developed piecemeal and surround a central lawn shaped as the Bitcoin logo. 
Residents will settle in modular prefab houses resembling upscale midcentury-style shipping containers starting at $60,000. Designed by James Law Cybertecture, the mini-structures can be arranged into near-infinite positions to accommodate single-family homes, sprawling offices, and other amenity spaces. Cybertecture, a novel term coined by the firm, refers to "architecture that blends the innovations of modular architecture, technologies of sustainable design, and a metaverse-based owner design paradigm to create a city that is truly decentralized." Green features like solar panels, specialized waste systems, and glass walls will step up the island's sustainability factor. The Hong Kong firm posits the modules as the future of urban planning, saying they reduce construction time and carbon footprints as opposed to traditional types of architecture.
"Satoshi Island will become the official home for cryptocurrency professionals and enthusiasts worldwide," a robotic female voice says in a promotional video. "A place to visit, work, and live in the first true society built around an entirely decentralized financial system and blockchain-based democracy."
The homes are scheduled to go on sale in the second quarter of 2022. How does citizenship on the island work? Since blockchain will be used to govern the island, each resident will receive one "citizenship NFT" that can be used to vote, live, and work. (Of course, the "citizenship" doesn't extend to Vanuatu.) The developer plans to distribute 5,620 free citizen NFTs to applicants with valid Ethereum wallets who have bought, sold, or minted an NFT on OpenSea in the past year; crypto influencers with 21,000 Twitter followers will automatically receive a citizen NFT if they apply. 
Satoshi Island isn't the first crypto-settlement to pop up recently—and interest in the budding micronations indicate that it certainly won't be the last. Nearly 800,000 applications are on the backlog to join Liberland, a micronation on uninhabited land between the Croatian and Serbian border founded by Czech politician Vit Jedlička. He enlisted Zaha Hadid Architects to devise a futuristic virtual scheme for the unrecognized city-state, which will feature buzzy NFT trading rooms and sweeping office towers rendered in the firm's signature avant-garde style. El Salvador, meanwhile, is planning to build a volcano-powered "Bitcoin City" partially paid for with $1 billion worth of bonds backed by the cryptocurrency. 
James Law Cybertecture's graceful mini-structures actually make Crypto Island seem somewhat inhabitable and hospitable compared to the widely mocked Cryptoland, which portrayed a private Fijian island as a cliche-ridden crypto-utopia. Your faithful editors at Surface are already hard at work pitching a crypto campus to our bosses.