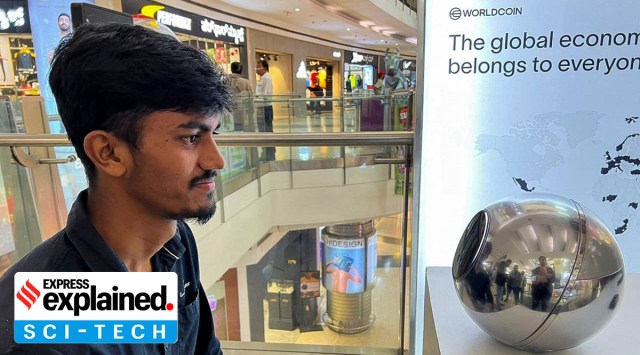 A man signs up for WorldCoin by having his eyes scanned by the spherical device in Mantri Square Mall in Bengaluru, India July 25, 2023. (REUTERS/Medha Singh/File Photo)
A new cryptocurrency project called WorldCoin, from OpenAI CEO Sam Altman, has claimed over 2 million sign-ups across the world around a week after its official launch on July 24. OpenAI is the company behind the AI chatbot ChatGPT.
What differentiates WorldCoin from many existing cryptocurrencies is its use of biometrics. Its unique method of sign-up, involving scanning of irises, has rung alarm bells in countries such as France, Germany and Kenya. India also has at least 17 sign-up locations – mostly at Delhi Metro stations in the NCR region and a few in Bengaluru. In comparison, the United States has 10 locations and Japan has three locations, according to the WorldCoin website.
What is WorldCoin?
"The Worldcoin protocol is intended to be the world's largest identity and financial public network, open to everyone regardless of their country, background or economic status," states its website.
The project has been in the works for the last few years and its stated aim is to provide a unique, verified identity for everyone. "Our aim is to enable universal access to the global economy. To help do this, we're working to distribute a new digital token freely to billions of people, including those without a passport or legal identification," it says.
WorldCoin wants to offer users an account that only "real humans" can get, through what it calls a "World ID". For this, a customer has to sign up and do an in-person eye scan at particular locations, where their irises would be scanned through a ball-like object called an 'orb'. Once the orb's iris scan verifies the person is a real human, it creates a World ID for them.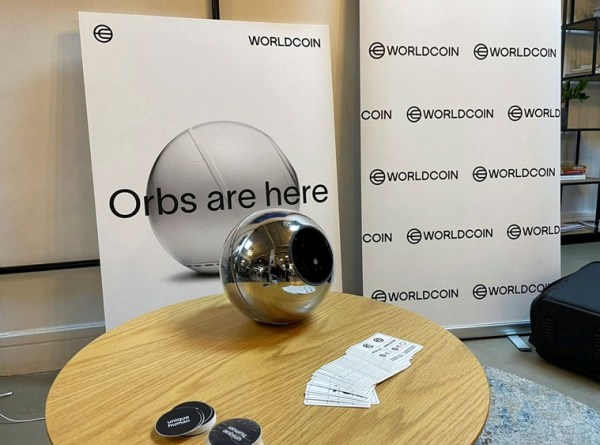 Stickers handed out to people who signed up for WorldCoin are seen at a sign-up site in Shoreditch, East London, Britain July 24, 2023. (REUTERS/Elizabeth Howcroft/File Photo)
The reasoning given here is that biometric data would help differentiate between humans and Artificial Intelligence systems and prevent duplication of IDs from the same person. It can then be used as an ID in a variety of everyday applications – such as a cryptocurrency wallet – without revealing the user's identity, WorldCoin claims.
The project has three aspects: a World ID or a digital identity for "proving an individual's unique personhood," a Worldcoin token (WLD) that is its cryptocurrency, and a World App that enables "payment, purchases and transfers globally using digital assets and traditional currencies." It says that creating a World ID (through the orb scanning) is not essential for accessing the app or tokens. But it provides certain incentives for doing so.
How do sign-ups for WorldCoin's World ID happen?
For creating a World ID, an eye scan to sign up is essential. As an incentive, WorldCoin has offered an amount of its cryptocurrency for free and users can then either sell it or wait for their value to inflate. "Eligible verified users can claim 1 free WLD token per week with no maximum and the amount is consistent across applicable regions," the website says.
As of August 1, 2023, one WLD equals 0.57 rupees, according to the crypto exchange platform CoinBase. According to Reuters, with its launch, Worldcoin is scaling up "orbing" operations to 35 cities in 20 countries.
However, some reports have said greater amounts have been offered in a few instances earlier. An April 2022 report from BuzzFeed News said that some users in Africa and Asia, during beta trials, claimed they were offered up to $20 dollars worth of WLD tokens when it was being tested. CEO Blania then told the media organisation in response, "Quite surely, in some places, communication, marketing, all of those things, could have been clearer and better… And we will improve that."
MIT Technology Review, in its report from the same month, also noted that at least initially during testing in places like Indonesia, the Orb operators were hired on a commission basis. This meant that the greater the number of sign-ups, the greater their commission.
Who owns WorldCoin?
San Francisco and Berlin-based company Tools for Humanity is behind WorldCoin. Altman is its Co-Founder and Alex Blania is its Co-Founder and CEO. The company's website simply states that it is a technology company that was built to ensure a "more just economic system", and has a link that re-directs visitors to the WorldCoin website.
Altman told Reuters that Worldcoin can help address how the economy will be reshaped by generative AI technology, saying "People will be supercharged by AI, which will have massive economic implications."
He gave the example of Universal Basic Income, the idea that every person should be given a basic sum every month, regardless of their employment status. Because AI "will do more and more of the work that people now do," Altman believes UBI can help to combat income inequality and that using WorldCoin for it could help reduce duplication and fraud issues. Billionaire businessman Elon Musk has also, in the past, suggested UBI as a means of safeguarding against AI advancement.
What are the data collections and privacy concerns over WorldCoin?
The WorldCoin website says that images collected by the Orb are "promptly deleted unless explicitly requested by the person signing up". It adds that in its place, a message containing a numerical representation of the most important features of the image captured remains, to create a unique individual code.
But this has not convinced certain regulators. A recent Reuters report said that a German data watchdog has been investigating the project since late last year "due to concerns over its large-scale processing of sensitive biometric data", the body's president told Reuters.
The Bavarian State Office for Data Protection Supervision President Michael Will told Reuters that the investigation is happening under the European Union's data protection rules because Tools For Humanity has a German subsidiary there. "These technologies are at first sight neither established nor well analysed for the specific core purpose of the processing in the field of transferring financial information," Will said.
Britain's data regulator has also said it will make enquiries into the project. France's privacy watchdog also said that the legality of the project's biometric data collection "seems questionable".
Kenya's Office of the Data Protection Commissioner said in a July 28 press release that individuals signing up for it must ensure that they are duly informed about how their sensitive data could be used. It has called for "increased vigilance" for compliance with its data-processing law.
Worldcoin was "designed to protect individual privacy and has built a robust privacy program" and is committed to ensuring it meets regulatory requirements, the Worldcoin Foundation told Reuters in response.